My Fave Mamapreneur Tools
Below are my favorite resources that I use to build my passion into a business, and with some hard work and dedication, I know they can help you too!
This post may include affiliate links, which means I will receive a small commission, at no extra cost to you, if you make a purchase using a link. Please see our <a href="https://kaihernandez.com/disclosure-policy/">policies</a>.
Batching & Automation
Honestly, who wouldn't love to save buttloads of time with batching? And who wouldn't want the freedom to set something up once & have it run on autopilot while they are just at home spending quality time with their little ones? I know I love it!
[convertkit form=5223547]
Instagram
When it comes to Instagram, we all know how challenging that platform can be to be consistent! It takes a lot of dedication, but is totally possible with the right tools!
I like to batch my Instagram strategy monthly, check out my monthly batching process!
My favorite tool is Tailwind, I love that I can auto-post! I can even plan out the whole month in advance, & focus on engagement, instead of running around creating content daily, all thanks to Tailwind!

They also have some great features, like drafts, grid preview, & a handy hashtag finder that shows you engagement level on related hashtags! Oh, & did I mention that Tailwind will even suggest the best times for your post depending upon the day. ?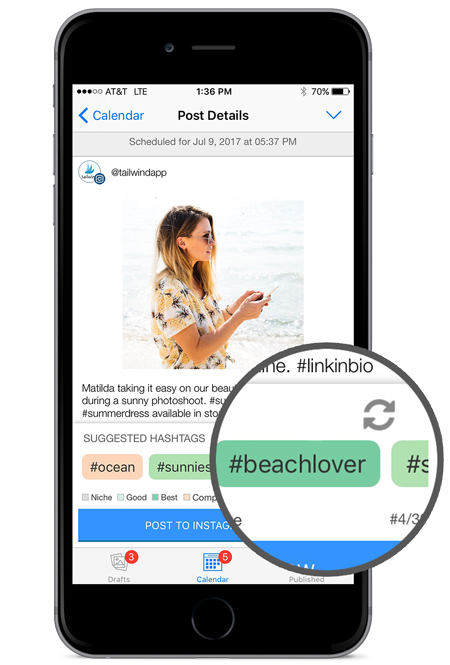 Pinterest
This is was the quickest & easiest way for me to grow from Day 1!
I love that I can use Tailwind to batch my Pinterest queue once a month in about one hour! The best part, being able to create specific lists to sort out all of those group boards you are on & make sure you don't miss any, or worse yet get kicked off for breaking the rules!
Even if you don't sign up for a plan, you can utilize Tailwind Tribes to expand your reach & find some great content to share!
Twitter
To be honest, I spend very little time focusing on Twitter, because that platform just moves so fast. If you are like me, you will love this tool!
IFTTT has allowed me to schedule a tweet once via google calendar & just have it repeat. Which means all I need to do when I have a new post I want to continuously promote, is schedule it once & I'm done!
Email Marketing
When I first started out, I spent so much time on a free platform getting frustrated & having all those broadcasts I worked so hard on, go straight to spam ?
Then I made the switch, & here's why you should too!
ConvertKit makes managing my email list so easy breezy. Not only does it let me schedule my broadcasts out, but I have been able to set up some amazing email funnels & automation. I love setting things up just once & having them run forever!
Not only did ConvertKit make it so easy & straightforward, but they also have 24/7 chat for any help that you need!
Continuing Your Biz Education
I have started a running list of my favorite biz books on Amazon for mamapreneurs who run an online biz from home. The books vary by topic, some on social media, branding, SEO, public speaking (or in this case live streaming), etc.
One thing I wish I had understood from the beginning, is just how essential email marketing is. Email is very far from dead! And in all honesty, it is the only place where algorithms won't affect you, & you cannot get kicked off the platform. While the world of social media keeps turning, & changing while we struggle to keep pace, email marketing is so often forgotten. Make it a priority!
Running Your Site!
If you are running a biz, you want it to be on your own terms. Sure other sites like Etsy are great, they can bring you an audience faster than you may have been able to reach on your own, but it also means you are building your biz on someone else's property! ?
Self-hosting
One of the most important things is to have your biz run on a self-hosted site. This means that even if Etsy kicks you off, you still have a biz!
I used to use a very popular hosting company, I bet you have heard all about it since they have one of the highest commissions, but honestly, I faced disappointment after disappointment.
Their customer service is amazing! I hit the chat button just to see what the process would be like to transfer my domains (since I run mine plus my hubby's together) & they were so amazing I switched over hosting within the hour!
Capturing Emails
My fave email marketing platform is ConvertKit, they were made for creatives like us!
If there is one thing I wish I had added to my site sooner, it would be adding places to capture emails & add subscribers to my list.
Think about how many sites you visit in a day & never return to again. In this day & age, we click on links searching for something & don't even really pay much attention to the site.
We get what we need & leave.
Don't let that happen to you!
Start building your list now with a 14-day trial!
[convertkit form=5223535]